Batteries
The 'heartbeat' of any vehicle is your battery, being, as it is, responsible for a number of functions throughout your journey.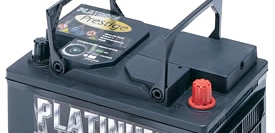 The battery is essential to the start of every drive, if you have trouble starting or maintaining charge, call into our workshops for a free battery test.
We stock a very wide range of batteries to fit most makes and models of vehicle - and if we haven't got it, we'll get it fast!
Home | Tyres | Exhausts | Brakes | Batteries